Contemporary Batik Painting Master
Henry E. Sumpter was born in suburban Myrtle Beach, SC in 1945. At an early age, he enjoyed reading about different people and places from around the world. As he roamed freely through the streets and paths of his hometown as a youth, he met many varied personalities due to the burgeoning tourist trade, and the development of a military installation. As he grew his interest in art increased, subsequently capturing the attention of one James H. Burroughs, a noted local artist, humanitarian, and philanthropist who knew the likes of Norman Rockwell, and others renowned in the field of art. The relationship culminated into a four-year scholarship, and several awards.
While attending Claflin University, he was introduced to the acclaimed batik master Leo Twiggs, who taught at a neighboring college. It was during this time that he became enamored with the batik process. During his stint as an army artist during the Vietnam era, he began to exhibit regularly, winning numerous awards for his art in Las Vegas, Memphis, and throughout the South. After the Army, he attended graduate school, and has since taught at several schools and colleges in the South, continually refining his art, searching for new and innovative methods in producing batiks for over 40 years. His unusual technique may take thousands of hours to complete one work, has evolved from silhouettes and nondescript figurative pieces to full-featured people, and animals in landscape settings. The process has led him to develop motifs derived from dreams, television, readings, and a truly vivid imagination centered on places visited; places envisioned and wanting to see, plus an assortment of mystical, mythological, and folksy themes with animals and people, all in serial groupings. Henry leaves a great deal of interpretation of his work to the individual viewer.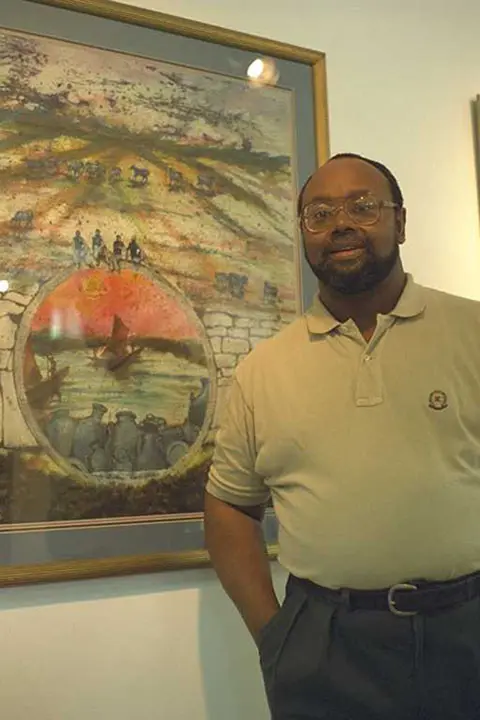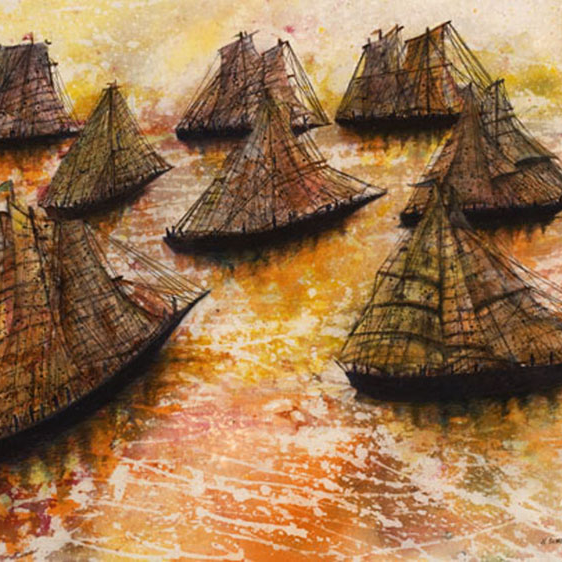 Most recently, his work has gained recognition on the contemporary art scene, and is fast becoming quite popular with artists and groups of international fame. His gregarious temperament compliments the cross-over appeal and mannerism of his work which hinges on philosophical attributes conveyed in eclectic Romanticism and Post-Impressionism.
Henry has participated in Art Expo, New York, and DECOR Expo, Atlanta, where he displayed several of his serial paintings. His work is in varied collections, including Springs Industries, London Contemporary Art, Mary Filo, Ben & Betty Cone, Gene Rotberg (World Bank), Jim Smothers (Smothers Warehouses), Dr. Stephen Mackler, George Langford III, Dr. Mitchell Siegel (Salisbury VA Medical Center), and a host of other collectors, including his trusted friend and confidante William Mangum (renowned watercolorist). His technique is not your typical batik textile creations one normally finds within the traditional crafts' format. He calls his unique style of painting "Contemporary American Batik Painting." He has also developed a line of design concepts for the fashion industry seen in his works, and has been featured in "Fine Art Magazine," a Forbes Family publication.
Presently, the artist works out of his spacious studios at the Sternberger Artist Center, Greensboro, NC.